Kitakogane Site
3 Date City, Hokkaido
Kitakogane Site
Designated as a Historic Site on December 25, 1987
Stage IIa (ca. 5,000 BCE – 3,500 BCE)  (Historic Site: ca. 5,000 BCE – 2,000 BCE))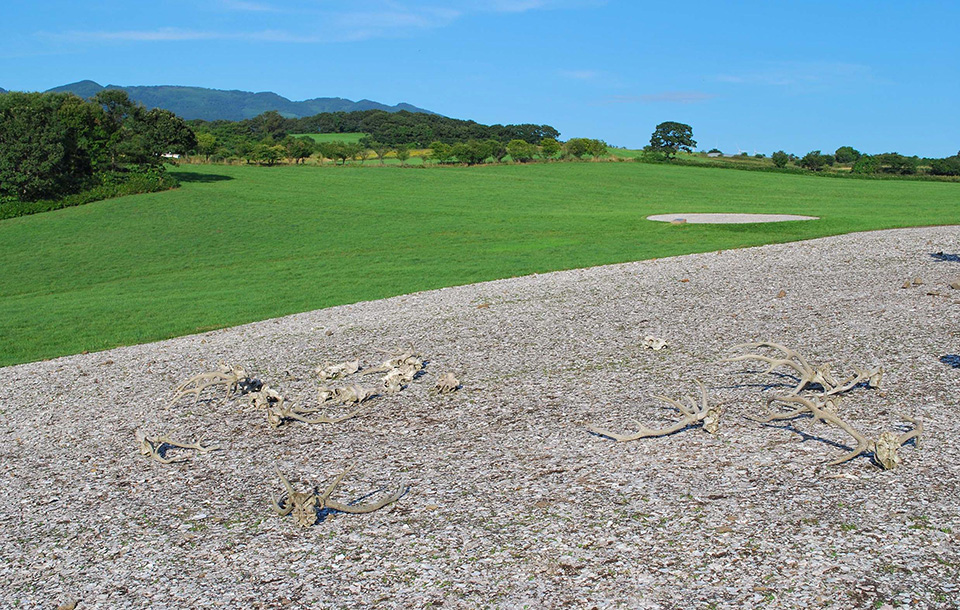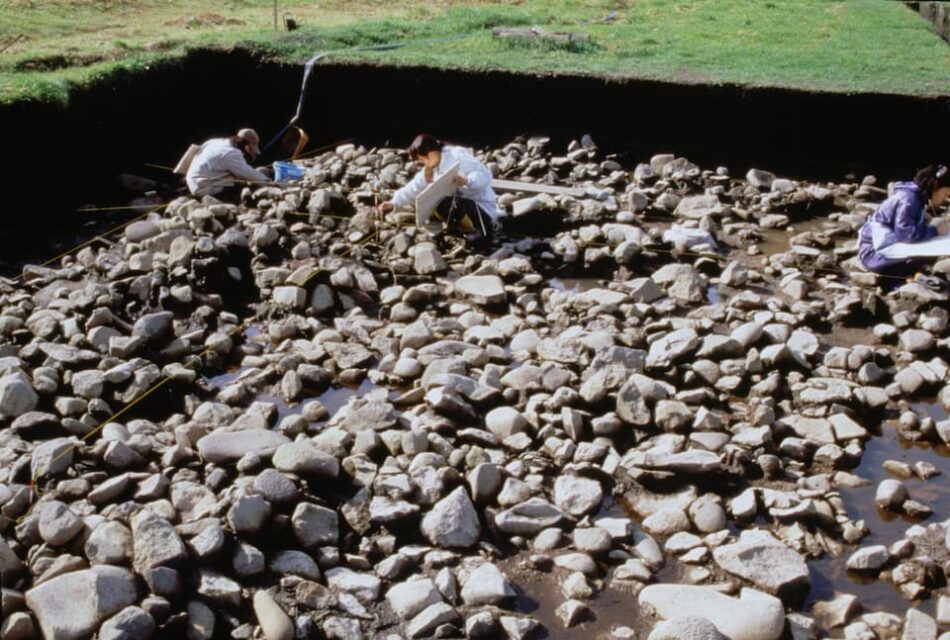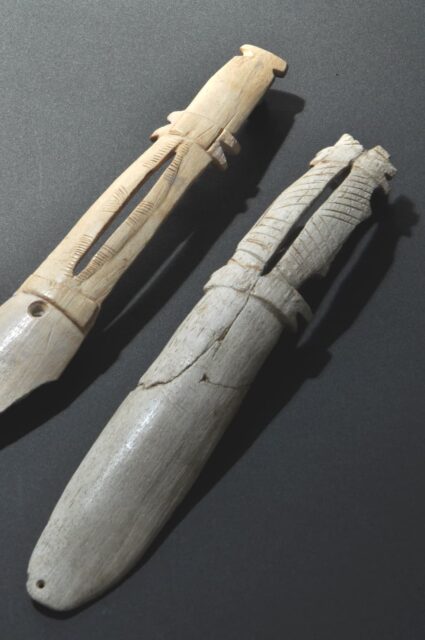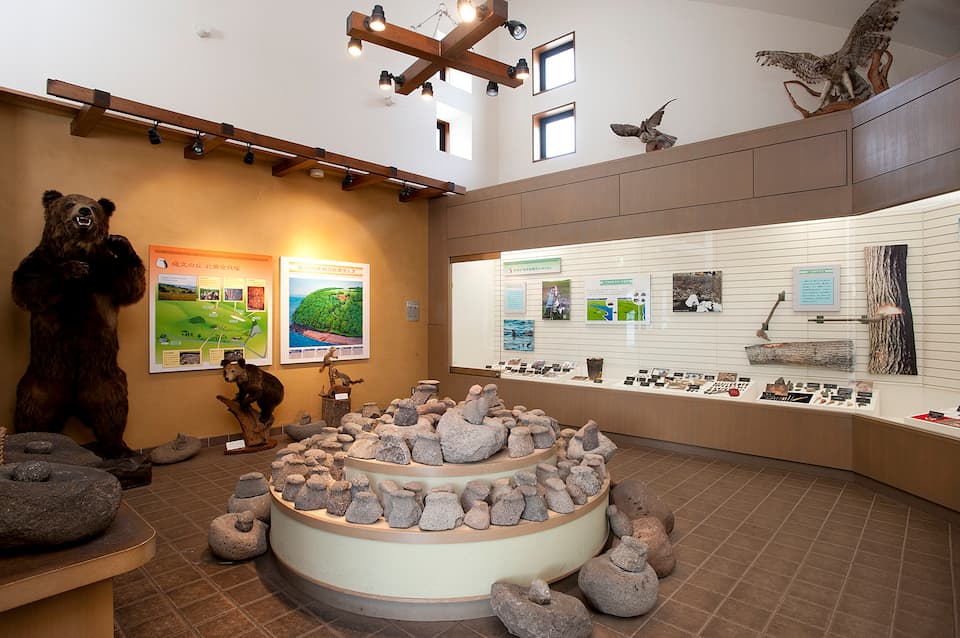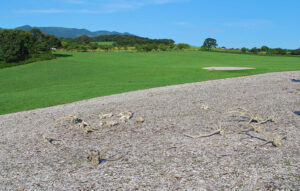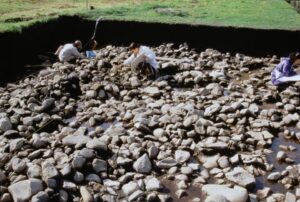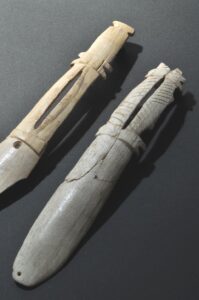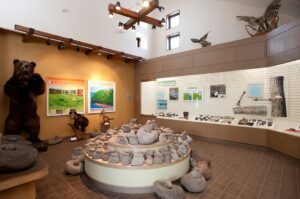 This site is located in Date City on the eastern bank of Uchiura Bay in southwestern Hokkaido, on a hill at an elevation of 10 to 20 meters. It is on Uchiura Bay, which abounds in aquatic resources. Deciduous broadleaved forests spread in the hinterland.
The settlement comprises myriad features, including pit dwellings, graves, shell mounds, and a watering place. Countless sea shells (from common Orient clams, oysters, scallops, etc.), fish bones (from tuna, flounder, etc.) and marine mammal bones (from fur seals, whales, etc.) have been excavated from the shell mounds. These indicate the fishing-oriented livelihood that was pursued in the region.
The shell mounds and pit dwellings date from a time when the shoreline was changing due to marine transgressions and regressions, presenting a good example of the relationship between changes in the natural environment and people's residential areas. A ritual place integrates a shell mound and a burial area where graves with human bones and the remains of rituals involving animals, such as the arranged cranial bones of deer, have been discovered.
Large numbers of pebble tools (grinding stones and milling basins) that are considered to have been used to crush nuts have been excavated from the remains of a watering place near a spring. Most of these were broken when found, indicating that the place was used as a ritual ground for the disposal of stone tools.
This component part is an archaeological site of a settlement accompanied by shell mounds dating from the first half of the development stage of sedentism. It is an important archaeological site that attests to a coastal livelihood, people's adaptation to environmental changes such as marine transgressions and regressions, and a high degree of spirituality such as seen in rituals and ceremonies at the watering place and shell mounds.
Site tours
Location

Kitakogane-cho, Date, Hokkaido

Access

Adjacent to the Kitakogane Site Information Center (in Kitakogane Shell Mound Historic Park)

Site guides

Volunteer guides (in Japanese, for 45 to 60 min.)

General visitors/Group of up to 15: 500-yen guide fee. Reservations are required two weeks in advance.
Group of 16+: 1,000-yen guide fee. Reservations are required two weeks in advance.
Visitor facilities
Name

Kitakogane Site Information Center

Address

Kitakogane-cho 75, Date, Hokkaido, 059-0272

Tel.

0142-24-2122 / +81-142-24-2122

Fax.

0142-24-2122 / +81-142-24-2122

Website

Hours

9:00 – 17:00

Closed

December 1 – March 31

Admission

Free

Facility guides

Pocket Curator multilingual app for smartphones and other devices (iOS and Android OS)

Exhibit explanations in Japanese, English, traditional and simplified Chinese, and Korean

Facility
information

Access

From Kogane Station (JR Muroran Main Line):

Approx. 2 min. by car
Approx. 5 min. by Donan Bus bound for Date Eki-mae or Toyako Onsen to the Kitakogane Kaizuka Koen-mae bus stop

From Datemombetsu Station (JR Muroran Main Line):

Approx. 20 min. by car
Approx. 20 min. by Donan Bus bound for Muroranko (Muroran Port) to the Kitakogane Kaizuka Koen-mae bus stop

From Muroran IC (Hokkaido Expressway):
Okonshibe-kun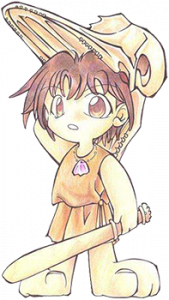 Okonshibe derives from o-komp-uspe, an Ainu term meaning "a place where kelp is harvested."
Facility introduction
Name

Date City Museum of History and Culture

Facility
introduction

This facility highlights the history of Date City from the Jomon period to the present.

Address

Umemoto-cho 57-1, Date, Hokkaido, 052-0022

Tel.

0142-25-1056 / +81-142-25-1056

Fax.

0142-25-8922 / +81-142-25-8922

Website
CONTACT
Kitakogane Site Information Center
Kitakogane-cho 75, Date, Hokkaido, 059-0272
TEL: 0142-24-2122 / +81-142-24-2122  / FAX:0142-24-2122 / +81-142-24-2122
From December to March, contact the Cultural Properties Section, Lifelong Learning Division, Date City Board of Education
TEL: 0142-23-3331 / +81-142-23-3331 / FAX: 0142-23-1084 / +81-142-23-1084
JOMON ARCHIVES
Kitakogane SiteSee more