Goshono Site
8 Ichinohe Town, Iwate

Goshono Site
Designated as a Historic Site on December 21, 1993
Stage IIb (ca. 2,500 BCE – 2,000 BCE) (Historic Site: ca. 2,500 BCE – 2,000 BCE)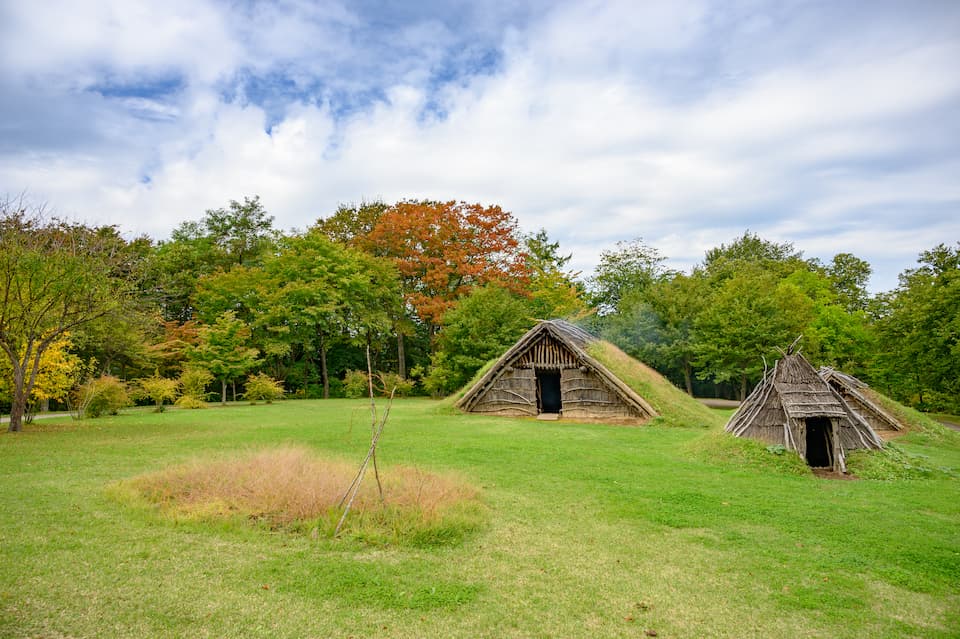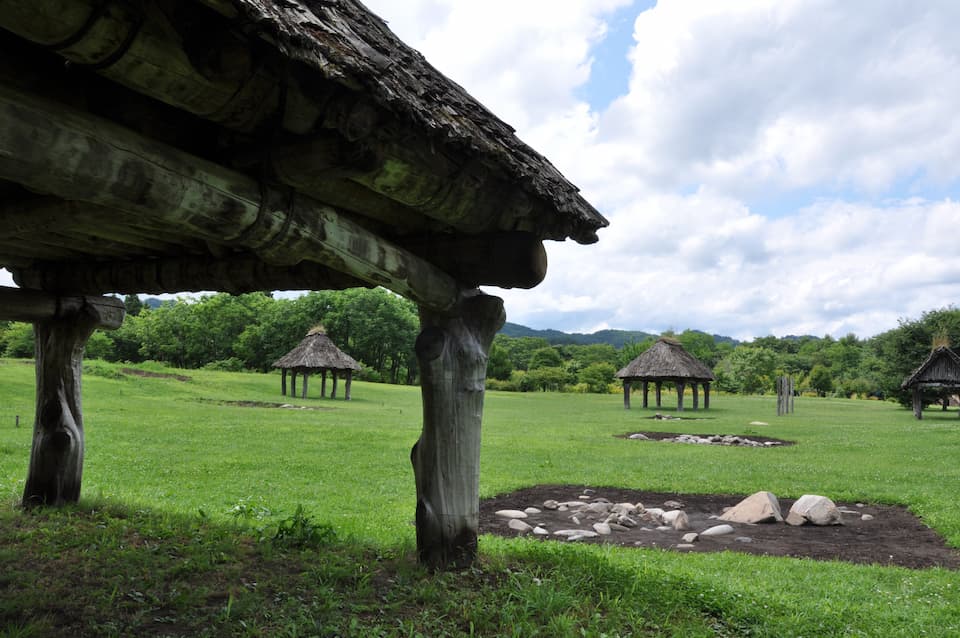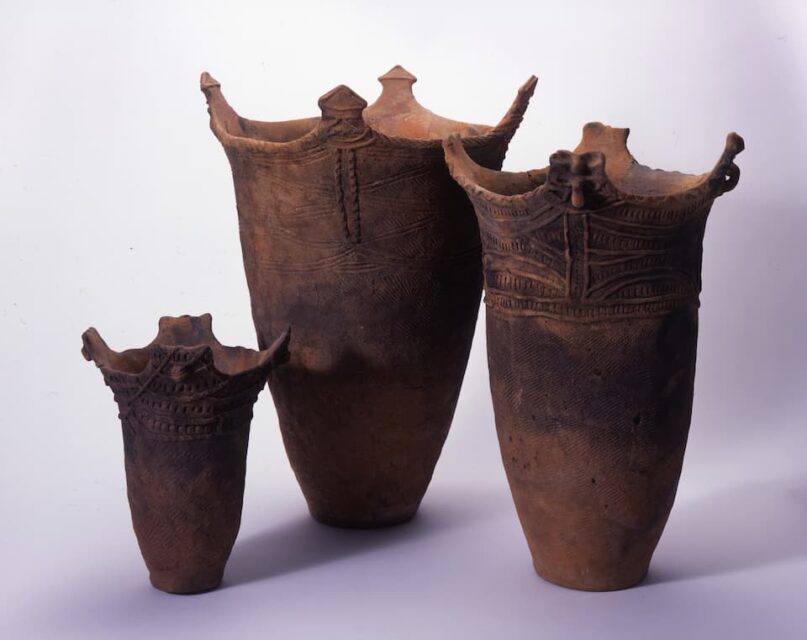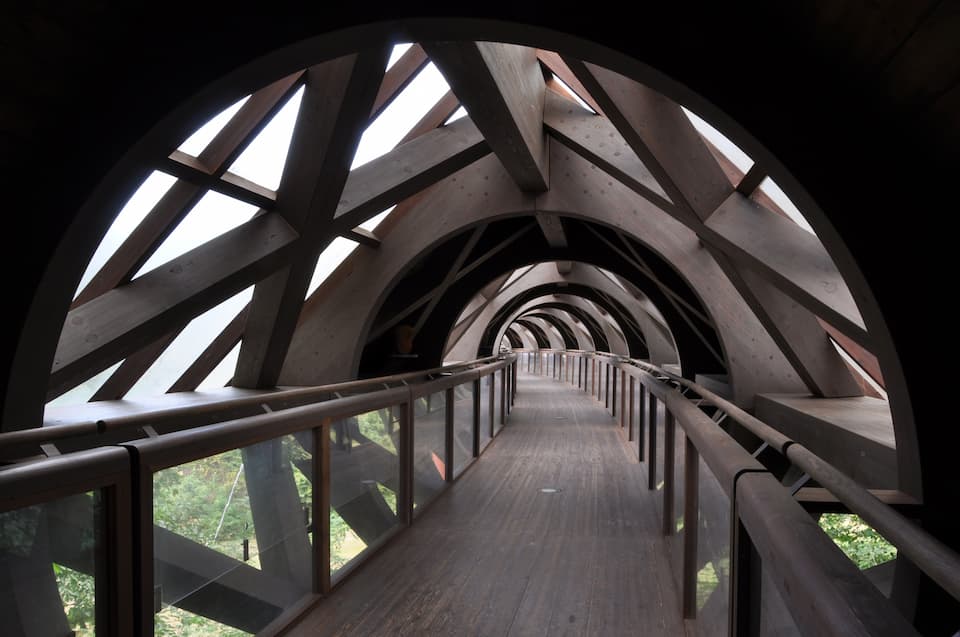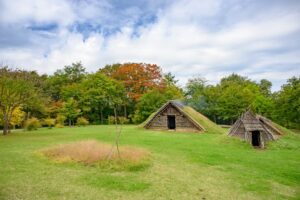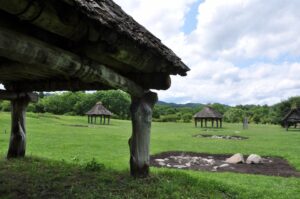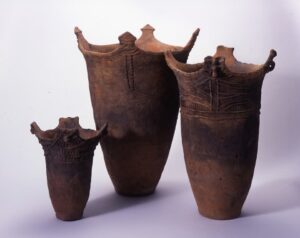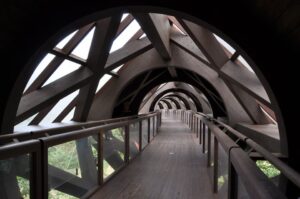 This site is located in Ichinohe Town in northern Iwate Prefecture, on a river terrace at an elevation of 190 to 210 meters along the Mabechi River, where salmon and trout migrate upstream and can be caught as food sources. Deciduous broadleaved forests spread in the hinterland.
At the center of the settlement site is a burial area with stone arrangements that was surrounded by pit dwellings, pillar-supported buildings, and ritual earthen mounds. In the eastern and western outer parts, pit dwellings were densely spaced.
Finds at the earthen mounds include the scorched bones of deer, wild boar, and other animals, scorched chestnuts, walnuts and other nuts, and ritual remains including clay figurines, clay objects, and stone objects, in addition to large numbers of pots and stone tools. These suggest that rituals and ceremonies using fire were performed at this settlement site. The remains of pit dwellings unearthed here include burned-out dwellings that research has revealed to have been earthen-roofed.
This component part, dating from the second half of the development stage of sedentism, is an archaeological site of a hub settlement with a burial area accompanied by stone arrangements and ritual earthen mounds. It is an important archaeological site that attests to a livelihood and spiritual lifestyle of an inland river area at that time.
Site tours
Location

Goshono, Iwadate, Ichinohe, Iwate Prefecture

Access

Adjacent to the Goshono Jomon Museum (inside Goshono Jomon Park)

Site guides

Volunteer guides (free, for 40 min.)

Guided tour check-in time: 9:30 – 15:30 on weekends and national holidays from May to October (Reservations are not required.)
For tours from November to April and on weekdays at other times, reservations are required one week in advance.
Group of 20+: Reservations are required one week in advance.
Visitor facilities
Name

Goshono Jomon Museum

Address

Goshono 2, Iwadate, Ichinohe, Ninohe-gun, Iwate Prefecture, 028-5316

Tel.

0195-32-2652 / +81-195-32-2652

Fax.

0195-32-2992 / +81-195-32-2992

Website

Hours

9:00 – 17:00 (last admission: 16:30)

Closed

Mondays (or Tuesday if Monday is a national holiday)
The day following a national holiday (except if that day falls on a Saturday or Sunday)
Year-end and New Year's holidays (December 29 – January 3)

Admission

General visitors

Adults: 300 yen; University students: 200 yen; High school students or younger: Free

Group of 20+

Adults: 250 yen; University students: 150 yen; High school students or younger: Free

Facility
information

Access

From Ichinohe Station (Iwate Galaxy Railway):

Approx. 5 min. by car
Approx. 10 min. by Iwate Kenpoku Bus on the Goshono Jomon Koen route (not in operation from December to March)
The Jomon Taxi fare is partially reimbursed if you show the receipt at the museum's reception desk.
Bicycle rental available at Ichinohe Station (April – December)

From Ninohe Station (JR Tohoku Shinkansen Line):

Approx. 15 min. by car
Approx. 25 min. by Iwate Kenpoku Bus on the Goshono Jomon Koen route (There is only one bus departure per day, and the service doesn't operate between December to March.)

From Ichinohe IC (Hachinohe Expressway):

Access map from Ichinohe Station (PDF) [in Japanese]

Iwate Kenpoku Bus Goshono Jomon Koen Route Timetable (PDF) [in Japanese]
Dokki

Tsutchi

CONTACT
The Office for the Promotion of World Heritage Site Registration, Ichinohe Town Board of Education (Goshono Jomon Museum)
Goshono 2, Iwadate, Ichinohe, Ninohe-gun, Iwate Prefecture, 028-5316
TEL: 0195-32-2652 / +81-195-32-2652  / FAX:0195-32-2992 / +81-195-32-2992
JOMON ARCHIVES
Goshono SiteSee more