Washinoki Stone Circle
Associated site – 2 Mori Town, Hokkaido

Washinoki Stone Circle
Designated as a Historic Site on January 26, 2006
Stage IIIa (ca. 2,000 BCE) (Historic Site: ca. 2,000 BCE)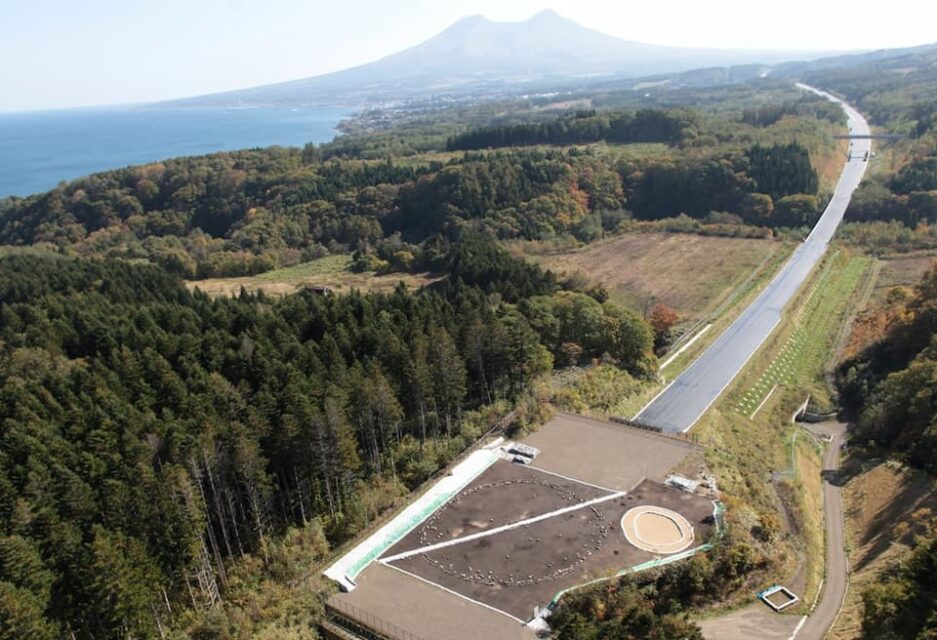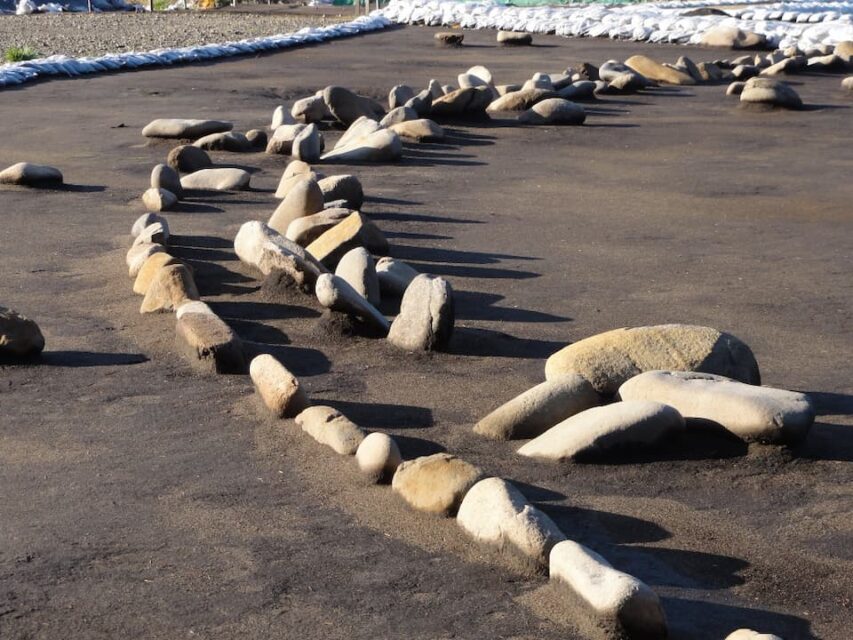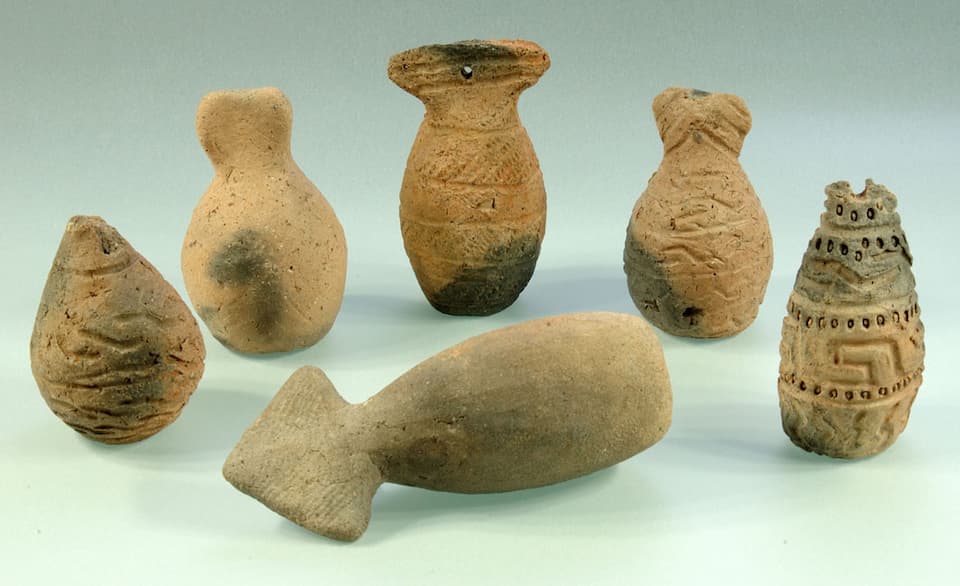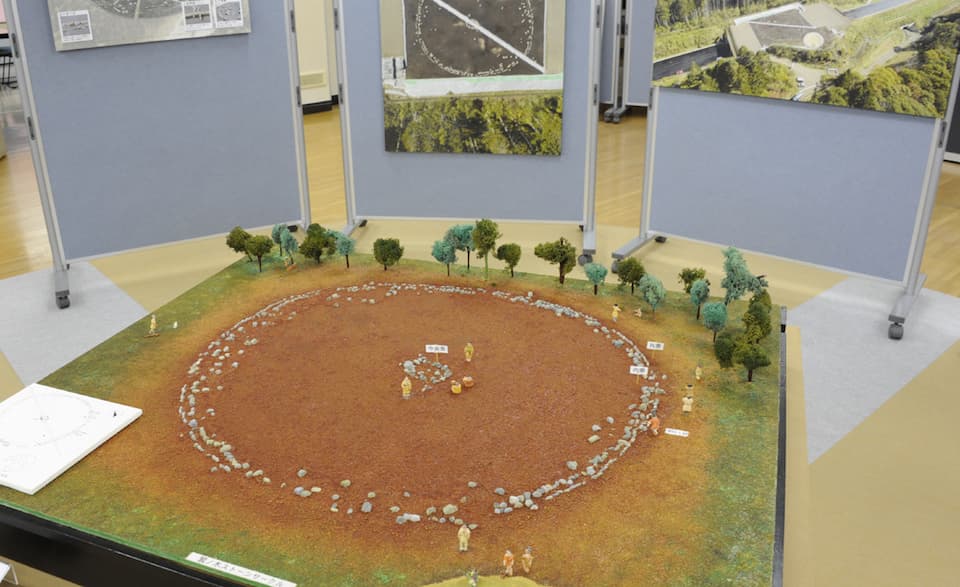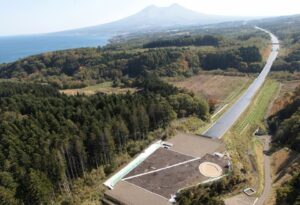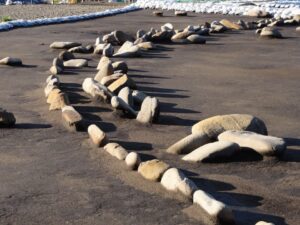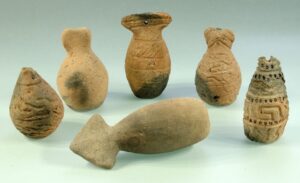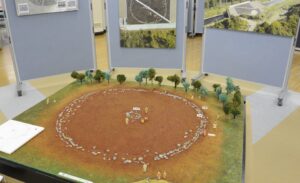 This site is located in Mori Town in southwestern Hokkaido, on a river terrace at an elevation of approximately 70 meters which is one kilometer inland from Uchiura Bay.
The site has one of the largest stone circles in Hokkaido. It consists of double outer rings and an oval stone arrangement at the center. The outermost ring is roughly circular, with a major axis of 36.9 meters and a minor axis of 33.8 meters. The stones number 602, and most of them have a flat, cylindrical shape and an average length of 30 to 40 centimeters. There is regularity in how the stones are arranged: The outer ring is made by aligning the stones on their long axis, whereas the inner ring is arranged with the long axes oriented toward the center of the stone circle. Many of the stones are buried upright or inclined. The nearest source of the stones is probably the mouth of the Katsura River, about a kilometer from the site.
A pit burial area lies five meters south of the stone circle. This burial area, measuring 11.6 meters by 9.2 meters, has pit graves and pits that are thought to have been used for placing offerings and tombstones.
The entire archaeological site is well-preserved because it was covered by volcanic ash from Mt. Komagatake, which erupted in 1640. It is an important archaeological site that attests to the rituals and ceremonies held at the time, as well as to the spirituality of people at that time.
Site tours
Location

Washinoki-cho, Mori, Kayabe-gun, Hokkaido

Access

From the Mori Town Office for Archaeological Excavation and Research:

Site guides

Guide services are available during site tours (in Japanese).

For group tours, please inquire.

Remarks

The site is open to the public only when site tours are held.
(Information on site tours will be posted on the Town of Mori website as soon as it is finalized.)
Visitor facilities
Name

Mori Town Office for Archaeological Excavation and Research

Address

Morikawa-cho 292-24, Mori, Kayabe-gun, Hokkaido, 049-2313

Tel.

01374-3-2240 / +81-1374-3-2240

Fax.

01374-3-2241 / +81-1374-3-2241

Hours

9:00 – 16:00

Closed

Weekends and national holidays
Year-end and New Year's holidays (December 30 – January 5)

Admission

Free

Access

From Mori Station (JR Hakodate Main Line):

From Mori IC (Hokkaido Expressway):
CONTACT
Cultural Properties Protection Section, Social Education Department, Mori Town Board of Education
Miyuki-cho 132, Mori, Kayabe-gun, Hokkaido, 049-2326
TEL: 01374-2-2186 / +81-1374-2-2186  / FAX:01374-2-6446 / +81-1374-2-6446
JOMON ARCHIVES
Washinoki Stone CircleSee more