Oyu Stone Circles
12 Kazuno City, Akita

Oyu Stone Circles
Designated as a Special Historic Site on July 19, 1956
Stage IIIa (ca. 2,000 BCE – 1,500 BCE) (Special Historic Site: ca. 2,000 BCE – 1,500 BCE)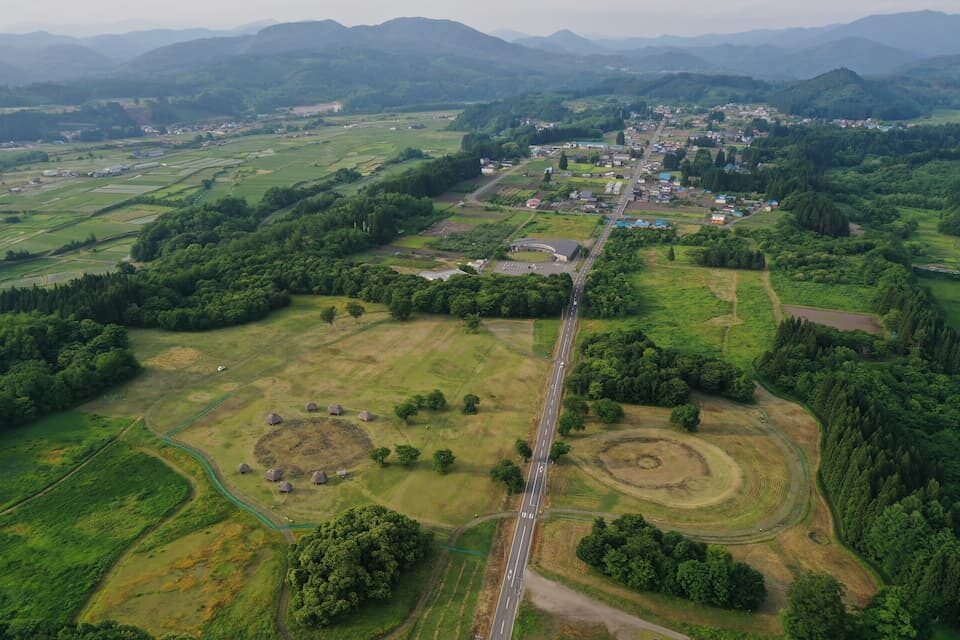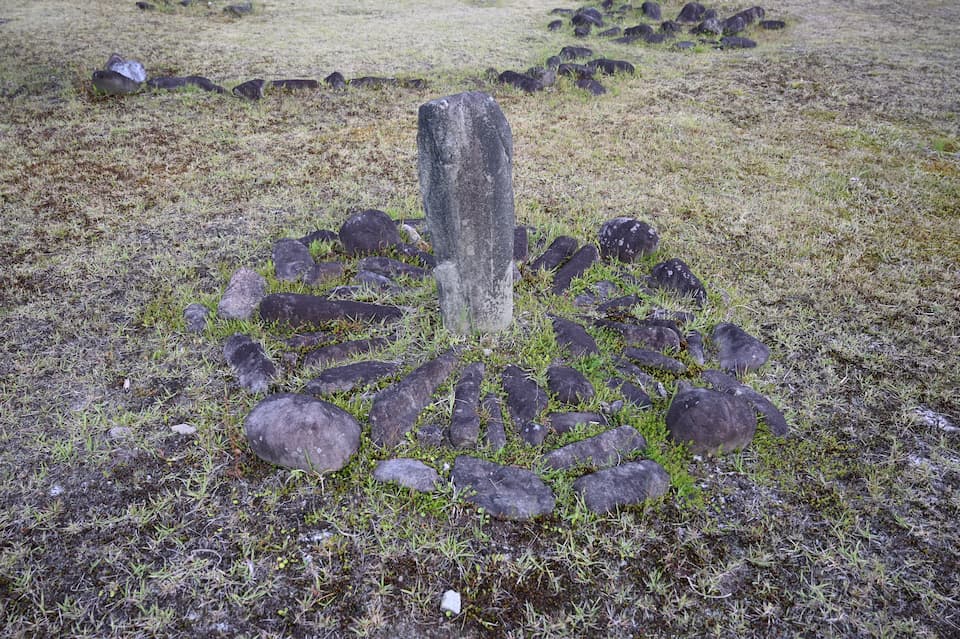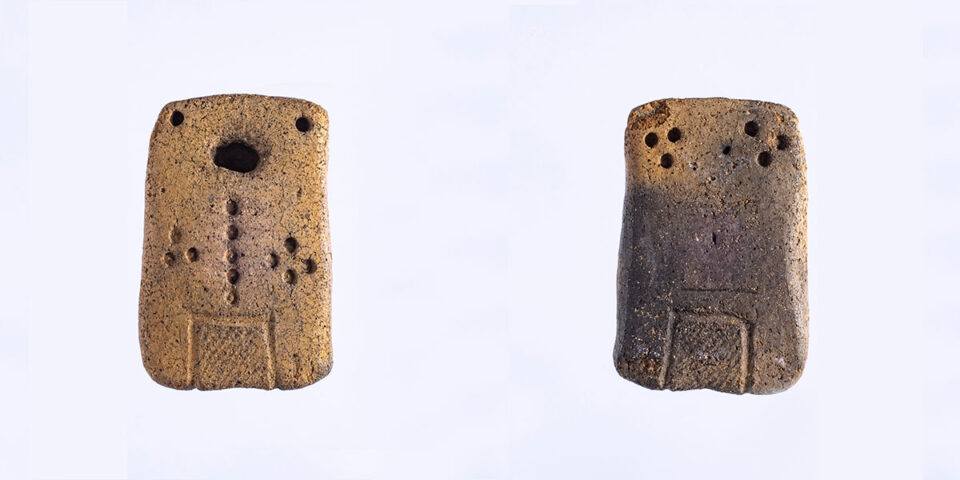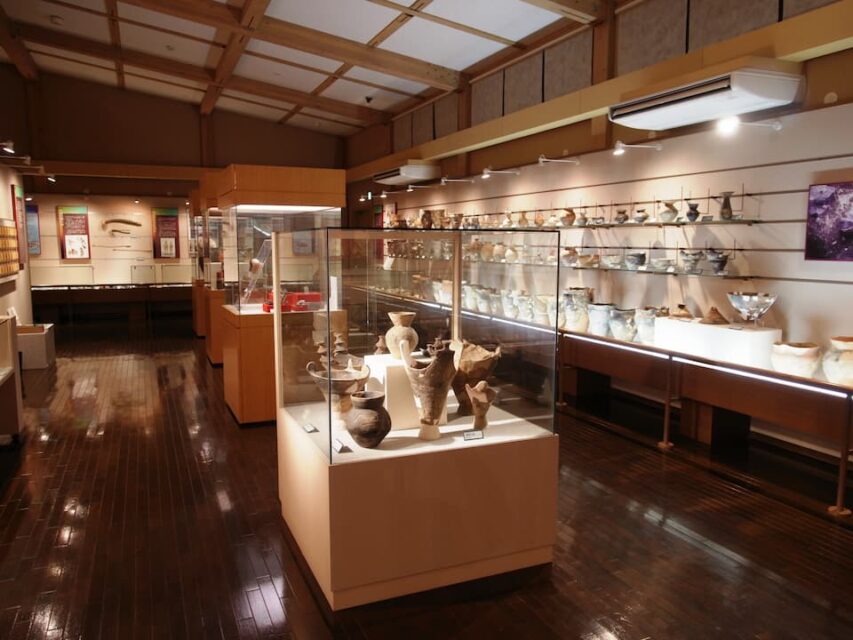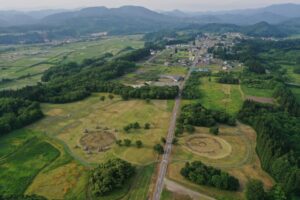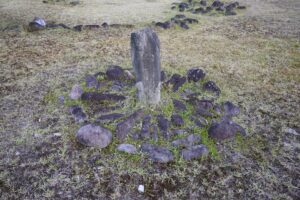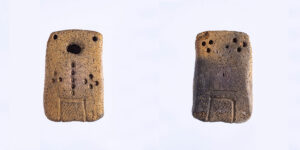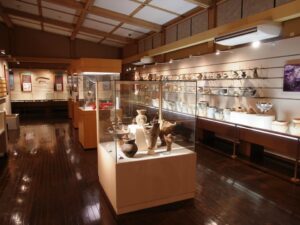 This site is located in Kazuno City in northeastern Akita Prefecture, on a plateau at an elevation of approximately 180 meters along the Oyu River, a tributary of the Yoneshiro River. It sits close to rivers where salmon and trout migrate upstream and can be caught as food sources. Deciduous broadleaved forests spread in the hinterland.
The site comprises the Manza Stone Circle (52 meters in diameter) and the Nonakado Stone Circle (44 meters), with each stone circle made up of river stones of different sizes arranged in various forms.
Each stone circle is surrounded by the remains of pillar-supported buildings, storage pits, pit graves, and other features, all arranged concentrically. Large numbers of ritual tools have also been unearthed around the stone circles, including clay figurines, clay tablets, animal- and bell-shaped clay objects, stone rods, and stone swords.
The fact that the central stones in these stone circles are arranged in a straight line with sundial-like stonework suggests that people built the stone circles in consideration of the sun's movements. A straight line drawn between the centers of the stone circles points toward the sunset on the summer solstice.
This component part, dating from the first half of the maturation stage of sedentism, is a ritual archaeological site that centers on stone circles. It is an important archaeological site that attests to a livelihood and rituals and ceremonies in an inland area.
Site tours
Location

Manza, Oyu, Towada, Kazuno, Akita Prefecture

Access

Adjacent to the Oyu Stone Circles Museum

Site guides

Volunteer guides (free, in Japanese, for 30 min.)

Reservations are required 10 days in advance.

Remarks

Hours
April to October: 9:00 – 17:30 (restricted access)
November: 9:00 – 16:00 (closed on Mondays; restricted access)
Closed in winter from mid-November to mid-April.
Visitor facilities
Name

Oyu Stone Circles Museum

Address

Manza 45, Oyu, Towada, Kazuno, Akita Prefecture, 018-5421

Tel.

0186-37-3822 / +81-186-37-3822

Fax.

0186-37-4303 / +81-186-37-4303

Website

Hours

April to October: 9:00 – 18:00
November to March: 9:00 – 16:00

Closed

Mondays from November to March (or Tuesday if Monday is a national holiday)
Year-end and New Year's holidays (December 29 – January 3)

Admission

Note: Admission to the Oyu Stone Circles Museum is free, but entry fees apply to the exhibition hall.

General visitors

Adults: 320 yen; Students up to high school: 110 yen

Group of 20+

Adults: 250 yen; Students up to high school: 90 yen

Facility guides

Volunteer guides (free, in Japanese, for 30 min.)

Reservations are required 10 days in advance.

Facility
information

Access

From Kazuno Hanawa Station (JR Hanawa Line):

Approx. 25 min. by car
Approx. 35 min. by Shuhoku Bus bound for Oyu Onsen to the Oyu Kanjo Resseki-mae bus stop

From Towada IC (Tohoku Expressway):
CONTACT
Oyu Stone Circles Museum
Manza 45, Oyu, Towada, Kazuno, Akita Prefecture, 018-5421
TEL: 0186-37-3822 / +81-186-37-3822  / FAX:0186-37-4303 / +81-186-37-4303
JOMON ARCHIVES
Oyu Stone CirclesSee more